E-Safety at Rowanfield Infant School
E-safety is of paramount importance to us at Rowanfield Infant School. To ensure we keep our children safe while they are using technology, we teach them the 5 rules of DR ASK.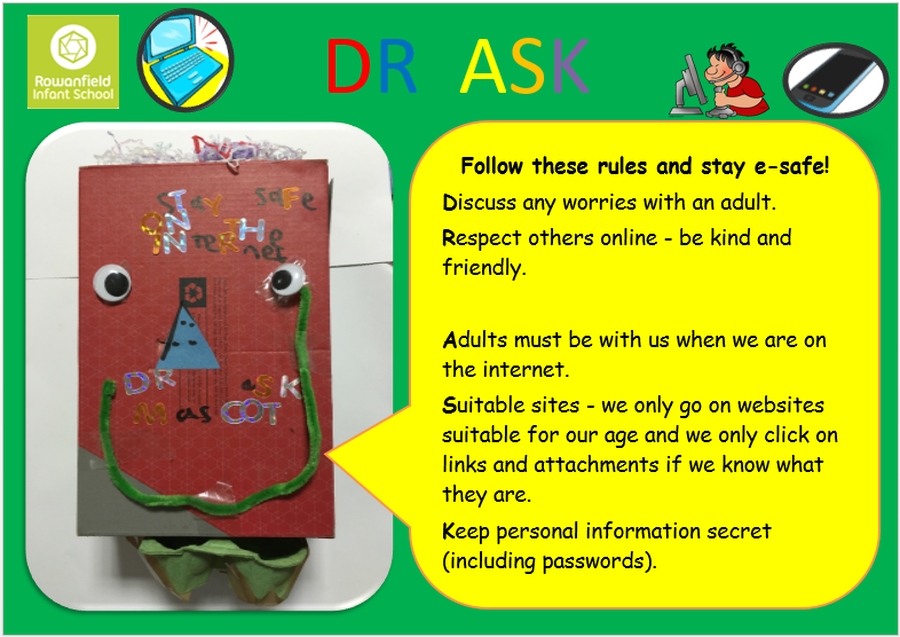 At Rowanfield, we have a termly e-safety assembly or class assembly to remind the children the importance of staying safe on the internet and making them aware of how they can do this.
As well as this, teachers regularly remind the children about the DR ASK rules in our computing lessons as well as any other times we use laptops or learnpads in the school.
How can you keep your child e-safe at home?
In school we have a mascot, DR ASK, who helps us remember some key e-safety rules. We display these rules in each classroom. Remind your child that it is important to follow these rules at home too.
Go through these rules with your child. Why not pin them up near to the computer. It is also a good idea to regularly check the Internet sites your child is visiting e.g. by clicking on History and Favourites. Please reassure your child that you want to keep them safe rather than take Internet access away from them.
What Else Can I Do?
Many Internet Service Providers have filtering systems to keep your child safe at home however it is still very easy for your child to access inappropriate text, pictures or videos. It is best to have your computer in a family area, so that you can supervise your children as they use the Internet. However, don't deny your child the opportunity to learn from the wide variety of material and games available on the Internet.